The Jackson Township Community Building is available for rent. Click here for details.
Police Dept. vehicles will be auctioned on April 6. Click for more information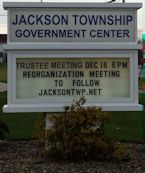 Looking to get the word out about your event?
Click for information about posting your message
on the sign in front of the Township building.
Read about three economic development programs available through Treasurer Josh Mandel's Office to help residents' and businesses in Ohio.
Jackson Township is a zoned Township and semi-rural in character.
We are centrally located between Cleveland, OH and Pittsburgh, PA.-approximately 60 miles from each.
Major arterials in Jackson Township include State Route 45 (north-south), Interstate 76 (east-west), and Interstate 80 (east-west), with an interchange connecting the latter two. Another significant arterial is Bailey Road which connects the General Motors Plant, just beyond the northern boundary of the Township. An interchange connecting Bailey Road with Interstate 76 has been provided.